Showbox Presents
Dragon Kings 2019 World Tour
LONGJING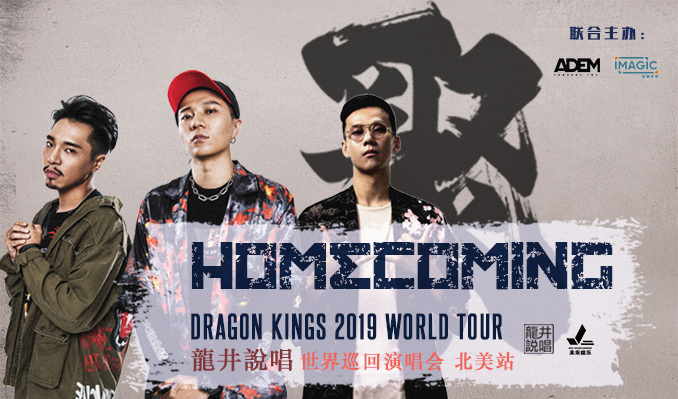 share
Artist Information
2019龙井说唱世界巡演北美站
12年是一个轮回,12年也可以是一个里程碑。龙井说唱自2007年成立至今,走过了整整12个年头。
不仅有下载破2亿,让所有留学生听后潸然泪下的「归」。
也有心怀感恩,用说唱表达自己情绪的「感谢」。
更有为北京地标三里屯特别打造的「夜三里」,脍炙人口。
我相信,在某一个深夜,你也会想起这几首歌,在脑海中不断回放。
对于每一个人来说,「龙井」都代表着特定时期的某个特别的情感。或是兄弟之情,或是对人生跌宕起伏的感悟,也有可能是一种独有的人生态度,就像龙井自己所说,他们的音乐风格,就是「龙井」。
经历了12年的摸索和打磨,龙井说唱19年再次起航。这次北美六站将是本次世界巡演的首站。不仅兄弟三人齐聚一堂,每站更是有实力雄厚的助演嘉宾为他们疯狂打call。
你准备好加入这场说唱盛宴了吗?
门票火热销售中。
2019 Dragon King's World Tour - North America Tour

A decade can be read as a reincarnation, which can also be seen as a milestone. Since the establishment of Longjing Rap Group in 2007, they've been chasing their passion for a decade.

Their achievement not only include the statistics of 2 million download for the heart-moving song "Come Back", but also the lyrics of "Thanks" to show their appreciation to their supporters and audiences. There is also a song called "Night at Sanlituan", which specially create for one of the landmarks in Beijing.

I believe that you had the moment of looping those songs in your mind when you alone at night. "Longjing" could be a unique emotional representation in a particular period of time. It could be either brotherhood or feelings to ups and downs in life. Like what "Longjing" claimed, their music style the perfect way to express "Longjing".

After the mutual experience in a decade, this time, Longjing Rap Group is coming to "rap" the world! More importantly, the North America Tour is the premier of the World Tour. YI HAN, SUN XU and SUN XIAO with SPECIAL GUEST are going to create a memorable night together!

Are you ready to join the night? Tickets are on sale now!
Read More
*Service and handling fees are added to the price of each ticket.
Mon, November 18, 2019
The Showbox
8:00 PM
$44.75

All Ages to Enter, 21 & Over to Drink